Fields Auto Body Shop was excellent and a pleasant surprise even after having to deal with the car accident that resulted in the need for their services.  Jerry was quick to have me in and out during the drop off of my car; he even contacted the car rental company so they would be there to take me to my rental.  Also, Jerry was great about keeping me updated on the status of the repairs.  But most importantly, the quality of the repair was outstanding.  My bumper actually looks better than it did before the accident–like new!  Thanks Jerry & Fields Auto Body Shop!
Robert H.
I got my BMW 745 repaired by Fields Auto Body. I picked Fields Auto Body after going to several body shops and realize that at Fields my car would not be just a number.  From there first class service to there years of auto body experience.  Fields Auto Body is simply the best. Thank you Jerry and your professional staff for making my car look new again. If I ever need or know someone that needs auto body repair Fields Auto Body is the place to go…..
-Donald P.
 "By far the best auto body service I have had..Jerry really knows how to treat the customers and make sure he gets the best part needed for you vehicle especially when the insurance companies want to give you after-market parts..my car looks brand new again and iam totally satisfied with their work,and they did it in a timely matter..if you live in corona or the riverside area then Fields auto body is highly recommended if your vehicle gets in a accident..they even assist you with getting a rental…5 stars for this place"
-Jamelle H.
"I would have to say I looked into many Collision repair centers and I found that Fields Auto Body won all of them by a landslide. Jerry the owner was very helpful and made me feel comfortable. When my car came out of the shop it looked brand new! Smelled great and they did an amazing job. I would definitely recommend people to this shop. I was more than happy with the outcome!"
-Megan H.
"My neighbor referred me to Fields when some guy ran into my truck. The guy's insurance company wanted to bondo the huge dent in my bed panel but Fields was able to get them to pay for a new one which I wanted because I didn't want bondo on my truck. Now the truck looks good again like nothing ever happened."
-Chris B.
"Very happy customer! 🙂 Fields repaired my car after I was rear ended on the freeway. I was afraid it would never be the same but they took care of everything and made it look perfect!"
-Maria Z.
"When we ran over something on the freeway in our 2011 Toyota Camry our insurance company told us to take our car to their shop but we told them we always take our cars to Fields because we trust them and they do a great job. Well, we took our car to Fields again and they did a great job as usual- the car looks fantastic! Thank you Jerry & Christine! We hope to not have any more problems but if we do we'll be back."
-Arlene H.
"I had a small scuff on the bumper of our new car. I didn't want my husband to see that I had already damaged the car so I took it to Fields to see if I could get it repaired quickly. It ended up that it was just scuff marks that they were able to polish off. Five minutes later I was back on the road with my bumper looking new again and they refused to charge me anything!"
– Melanie M.
"I was concerned that such a small shop might not be able to match the color on my pearl white Lexus but my close friend said they always have Fields do their cars and they have always been perfect so I gave them a chance. When I picked it up I was looking for something that would live up to my doubts but I couldn't find anything. Now I tell my friends to go there too!"
– Kelly S.
"The garage door closed on the rear bumper of my car and scratched it. You guys gave me a good price, repaired it fast and the bumper looks great. If anything happens to my car again, I know where I will be taking it."
– Martin R.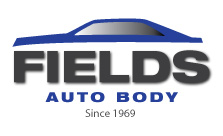 321 E. Grand Blvd., Corona, Ca 92879
Call 951-371-6533
Fields Auto Body Collision and Repair Services in Corona