Our Limited Lifetime Warranty:
Except for rust repair and as otherwise stated herein, Fields Auto Body guarantees all auto body repairs & refinishing we perform will be free of defects in materials & workmanship for as long as you own your vehicle. If any issues are found with any repair or refinish work completed at Fields Auto Body, please return the vehicle to us as soon as possible for inspection. In the unlikely event that defects in materials or workmanship are found related to work we have completed, we will correct the problem at no charge and provide a free loaner or rental car to use while the re-work repairs are completed. This limited lifetime warranty covers defects in materials & workmanship- it does not cover normal wear from sun exposure or damage to finishes from neglect, bird droppings, tree sap, acid rain or any type of damage that occurs after the vehicle has left our facility.
Parts Warranty:
New OEM, (Original Equipment Manufacturer) parts installed at Fields Auto Body shall be covered by the manufacturer's warranty, (the length of time varies depending on the type of part and the specific manufacturer). "Aftermarket", "Recycled", "Rebuilt" or "Remanufactured" parts shall be covered by the insurance company that designated those parts on the estimate and/or the provider of those parts. Fields Auto Body prefers to use only new, OEM parts!
Fields Auto Body certifies that your vehicle will be repaired using the latest techniques that meet generally accepted standards for safe, proper vehicle repair as recognized in the industry.
We take pride in our workmanship and sincerely want you to be happy with the quality of our work! If any issues are found with any repairs made at Fields Auto Body, please return that vehicle to us as soon as possible so that we can address the problem and attempt to resolve it. In the unlikely event re-work repairs are necessary, Fields Auto Body will provide a loaner or rental vehicle at no charge.
Information about your rights:
Auto Body Repair Consumer Bill of Rights
A Consumer is entitled to:
Select the Auto body repair shop to repair auto body damage covered by the insurance company.  An insurance company may not require the repairs to be done at a specific auto body repair shop.
An itemized written estimate for auto body repairs and, upon completion of repairs, a detailed invoice.  The estimate and the invoice must include an itemized list of parts and labor along with the total price for the work performed. The estimate and invoice must also identify all parts as new, used, aftermarket, reconditioned or rebuilt.
Be informed about coverage for towing services, unless the insurance company has provided an insured with the name of a specific towing company prior to the insured's use of another towing company, the insurance company must pay all reasonable towing charges of the towing company used by the insured.
Be informed about the extent of coverage, if any, for a replacement rental vehicle while a damaged vehicle is being repaired.
Be informed of where to report suspected fraud or other complaints and concerns about auto body repairs.
Complaints within the jurisdiction of the Bureau of Automotive Repair
Complaints concerning the repair of a vehicle by an auto body repair shop should be directed to:
Toll Free (800) 952-5210
California Department of Consumer Affairs
Bureau of Automotive Repair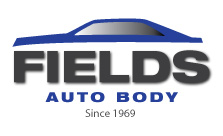 321 E. Grand Blvd., Corona, Ca 92879
Call 951-371-6533
Fields Auto Body Collision and Repair Services in Corona